Reward Policy
How to get points?
Reward Point system for our loyal clients.
Every registered client has 0pportunity to get reward points and discounts which can be used together in your future orders.
How to get points.
*Any successful order can get related points , points quantity depends on the total amount of the orders. The points would be put into your account in approx. 24 hours.
*If you have any advice on our new ordering system, you can leave message or email us. When your advice is accepted, you will be rewarded 20 to 80 points, it depends on your advice quality.
*Recommend your friends or other people to purchase our lace wigs, you would get 100 points($10).
*Providing real pictures of you with our wigs can get

50-100

points, providing great vedios can get

100-400

points, points quantity depends on the quality or influence of your pictures or vedios.
*Writing review on the products you ordered would get 5-20 points
How to use points when you place order:
*Every $20 of your success order can get 5 points , and every 10 points can be exchanged to $1. You can use the money for your future orders, but can not exchange the points to cash .
*There is no deadline for your points.
*Points and discount can be used together in one order.
*Points rewards policy is not suitable for the wholesale clients
please inform

ben@tsingtaohair.com

when you submit your review or you have photos or video to share with us
How to use points?
You can use points as money when you order.
How to use coupon or reward points
2.Check what points do you have,Please know 10 points equal to $1.
click "History" to Check reward points history if necessary
then. choose the wig you need and click "add to cart" , confirm the products information
and then Click "check out"
Please know billing address and shipping address must be same
If you have reward points,and want to use it in this order,please choose "use my reward point(s)" and click the icon beside and then use it
If you have our couPon code,FILL COUPON code in "coupon code"text area and then click "APPLY"
Calculate shippping if it display "TBD"
See the subtotal, you would find the total price has minus the coupon and points value
Reward points : your current order 's reward
See the change of the discount if you used your points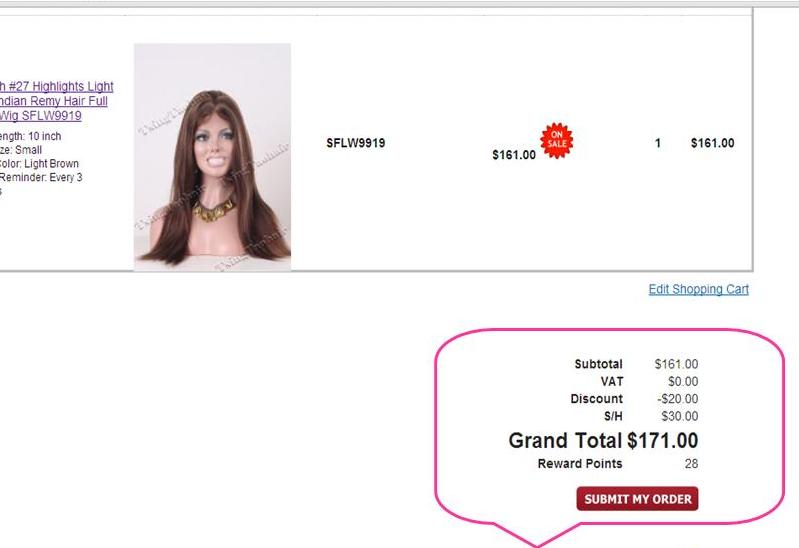 System display new balance after you click "use reward points" icon